Site
Gyp the Cat dot Com First Birthday
Wow, what a year it's been.  This page celebrates a year from the first post Coming Soon.
The actual domain was registered 30 March 2010 and acted for a few months as just a repository for hotlinked images that I used around the place.  To be fair I still use the site for hotlinking, if you want to see what gets hotlinked most have a look at Gyp the Cat the Avatar.  Other bits and pieces I upload then forget about, and only see the occasional mention of in the logs.
In the last year this domain has been sat on 4 different webservers, once with Webfusion, once with VPS Ville and finally here with Linode.  Hopefully no one noticed the move!  I tried to keep downtime to a minimum.  Throughout all that time however the domain registra has always been the fabulous (and cheap) 123-reg.
Layout wise, it's gone from something mashed together in Adobe Dreamweaver, to a WordPress Blog with a heavily modified Lonely Tree Theme.  This layout you're looking at now is the excellent Premium Pixels, which I've played around with a little bit.
Any way, how do you fancy a bit of analytics?  I bet you do…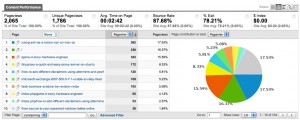 In the last 12 Months (August 2010 to August 2011) this site has seen a staggering 4,890 unique visitors (according to the Analytics, I know it's unlikely to be 100% accurate).
The most popular content is about getting the hardware engineer on Game D Story with a massive 24% of all traffic over the last 12 months.  However, over the last 3 months the popular content has had a fairly major shake up and looks like this: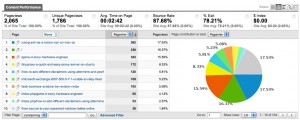 The article I wrote about about using SSH as a VPN on Mac OSX certainly seemed to strike a chord with the blogging and internet community!  Thanks guys for all your links to that page and comments.
A couple of posts surprised even me with their popularity, a quick and dirty guide on Tinyproxy keeps making it into the top ten content, which means that two of my top ten posts are about port forwarding in some way or other.  The other surprising page is how to alter disclaimers with AlterMIME, it's funny how very niche technical problems can attract searches.
Another recent post that is gaining popularity is describing what xdecrypt.com is.  For quite a new article it really is making it into the top ten very quickly.  I put that down to the guys over there doing a fabulous job doing what creating their rainbow tables, and people like me driving traffic to them.
I've gone from somewhere on page 4 for most my key words, to the front page for most.
Here's me looking forward to exploring some other great technology over the next 12 months and sharing it with you guys, so a massive thank you for your continued support, and carry on reading!
Your humble and thankful author:
Gyp